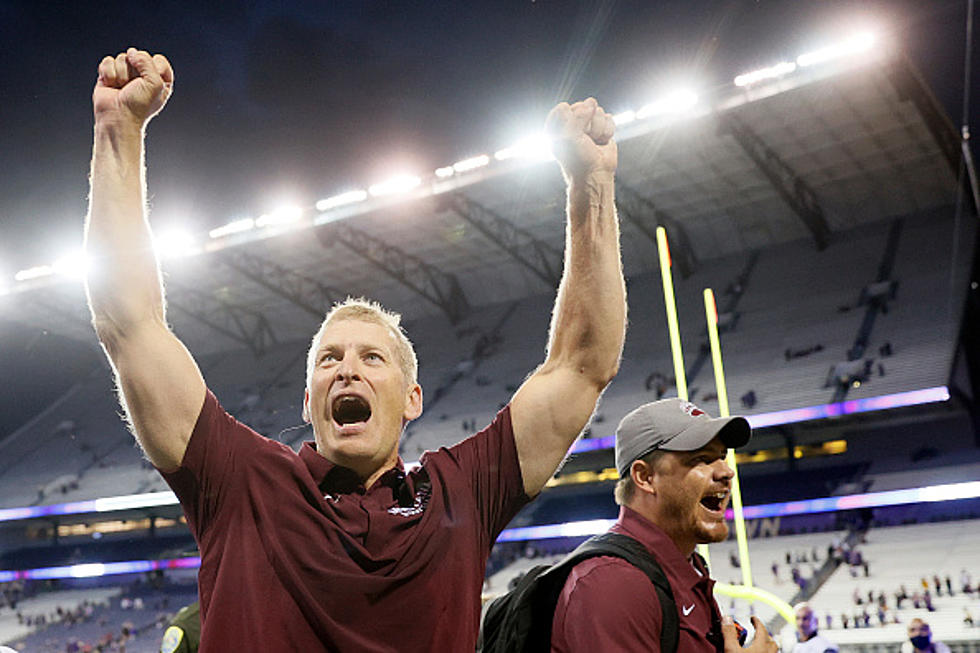 Records Broken, Butts Kicked: 5 Takeaways From The Griz' Beatdown of Sac St
Steph Chambers, Getty Images
A top-10 showdown turned into a top-10 thrashing when the #4 Montana Grizzlies blew the doors off the #7 Sacramento State Hornets Saturday night. After the defending Big Sky Champs scored first, Montana rattled off 34 unanswered to win 34-7 on a blustery, chilly Saturday night from Missoula.
Here are 5 takeaways from Montana's statement win:
1) Montana's Defense is LEGIT
They're the third-best scoring defense (just under 16 points allowed per game), the fourth-best rush defense (84 yards per game) and have given up just 7 points over the last two weeks. This defense had Sac State's offense flustered. Multiple times Sac's quarterbacks were visibly upset with the offense's production. It became so bad that, in fact, one of Sac State's top weapons Jared Gipson slammed his helmet in frustration after a kneel-down that led to his ejection. Oops.
2) Into the record books we go...
After a Sac State punt pinned the Griz against their own endzone, the Griz didn't take much time to move out of the shadows of their own goalposts. A QB sneak and then... the big one.
NINETY-SEVEN-FREAKING-YARDS.
3) Into the record books we go round #2
The kid from Big Timber, Montana is now the all-time winningest head coach in Big Sky history. Bobby Hauck won his 124th game passing one of his mentors Jerome Souers. If you count his UNLV stint, Hauck is up to 134 career wins, but we like to focus on his time in Montana.
4) Aaron Fontes is a stud
There wasn't a guy in Sac State's secondary that could cover Aaron Fontes on Saturday. Come to think of it, I don't know if Sac State's secondary could cover Fontes any day of the week. Six receptions for 88 yards and a score... and it could have been better! A penalty negated what would have been his 7th reception and would have put him over 100 yards on the day. Coach Hauck told the media earlier this season he wanted to get guys not named Junior Bergen involved in the receiving game.
And boy, have they ever.
5) Looking forward...
Montana gets Portland State next weekend... and the big one in two weeks.
Griz-Cat.
The team can't look past Portland State, but I sure can. The Griz have everything in front of them and it's all up to them. Two wins, you're Big Sky Conference Champions and the number two seed in the FCS Playoffs. If both the Griz and Cats win next week it will be the first time in the history of the rivalry when both teams are ranked in the top 5.
Buckle up boys and girls.
States with the most registered hunters
Stacker
analyzed data from the U.S. Fish and Wildlife Service to determine which states have the most registered hunters. Read on to see how your state ranks on Stacker's list.
Gallery Credit: Meagan Drillinger