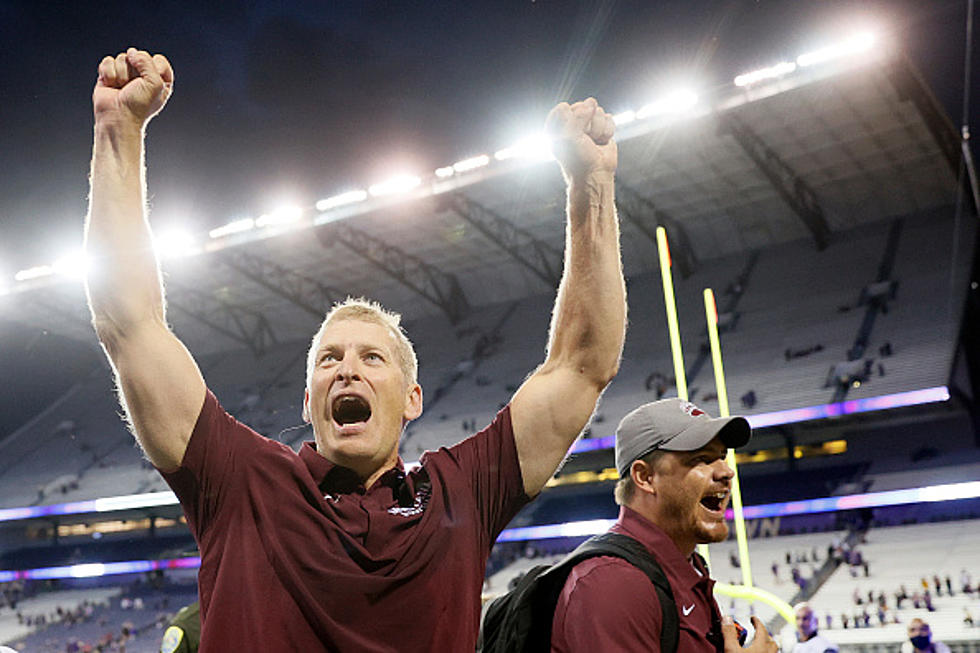 Prediction Time For Griz Football… How Will Montana Fare In 2023?
Steph Chambers, Getty Images
Football is so back. Montana Griz Football is so back.
Week one is here and Washington-Grizzly Stadium will be rocking this Saturday at high noon for the matchup against the Butler Bulldogs. At this time last year, expectations were sky-high for the Montana Grizzlies. Unfortunately, it didn't pan out the way Griz Nation desired.
But you know what? Screw it! We are onto 2023, baby.
A lot has changed in the offseason. New players, new coaches, players leaving and college football rule changes. Plus, the new schedule, preseason rankings and awards... there's just so much to catch up.
In order to catch you up to speed, I put together a gameday guide to fill you in on everything you may have missed this offseason. At the end of it, I'll put my fortune teller hat on and predict the Griz' record in 2023.
A pair of new coordinators
Both offensive and defensive coordinator changes were made in the offseason. The former Griz Brent Pease was brought back to spearhead the offense. Pease played at Montana from 1983-1986 and later joined the coaching staff from 1991-1998 before making high-profile stops at the University of Florida and Boise State University.
Pease handles the offense while Ronnie Bradford was elevated to the D-Coordinator role after two seasons as the Associate Head Coach and Defensive Backs Coach. Bradford brings a legitimate championships pedigree to his new role. In college, the former Colorado Buffalo won a National Championship in 1991. After being drafted to the NFL, Bradford reached Super Bowl XXXIII with the Atlanta Falcons but lost to John Elway's Broncos. Fun Fact: Bradford is the last guy to pick off John Elway. 
Speaking of new...
There's a new quarterback in town
Though Head Coach Bobby Hauck hasn't officially named the starter for this Saturday, all signs point to a new quarterback taking the reigns. Boise State transfer Sam Vidlak has looked the part in spring and fall camps.
He can make all the throws - Voice of the Griz Riley Corcoran
Even if Vidlak isn't the starter, the next most likely option is Clifton McDowell, an athletic transfer from Central Arkansas.
Vidlak completed 9 of his 14 attempts at Boise State last year and McDowell went 7-13 with a touchdown and an interception. The two QBs may be inexperienced in live D1 gameplay but both bring a ton of talent to the table.
The schedule...
Anytime a team plays a Big Sky Conference schedule it's going to be rigorous. These are the ranked teams Montana has on its schedule:
#3 Montana State
#8 Sacramento State
#13 Idaho
#17 UC Davis
Yikes. Before we get to the Big Sky gauntlet Montana squares off against non-conference foes Butler, Utah Tech and Ferris State. It might not be the toughest of non-cons but there are some fun nuggets mixed into the schedule. Butler has never played Montana before. Utah Tech hosts Montana as a part of a 3-for-1 deal (3 games in Missoula, 1 in Utah). Ferris State is interesting, too. A Division II powerhouse with national championships in each of the last two years.
Other Griz to keep tabs on
Let's break the defense down into three groups: The Line, the Linebackers, the Secondary
The Line: Anchored by Big Sky All-Preseason player Alex Gubner, the Griz will should have some consistent play up front.
The Linebackers: They lose All-American and current Seattle Seahawks Patrick O'Connell, but they return depth across the linebacking core. Led by Mr. Legacy himself Levi Janacaro. Also, keep an eye on Anaconda native Braxton Hill and Redshirt-Sophomore Riley Wilson. Rumors have it that Wilson could be a STUD.
The secondary: Some guys that can play but a lot of shuffling from a season ago.
The offense will have plenty of weapons around the whichever quarterback gets the week 1 nod. Junior Bergen is back after an explosive season a year ago in the return game. Bergen should be involved much more in the offense. The Griz also can rely on a number of running backs: Xavier Harris, Nick Ostmo, Isiah Childs and Eli Gillman are all capable of leading the rushing attack.
Prediction time
The offense has great capability to be elite. The defense has sturdy players at every level. The special teams should always be great under special teams enthusiast Bobby Hauck.
With all that said, my official Griz prediction for the 2023 regular season is...
Disclaimer: I will not be held responsible if you use my advice for gambling. Don't ever listen to me when it comes to fiscal topics, alright?
MONTANA: 9-2 (7-1)
That's right, boys and girls. I'm very high on the Montana Grizzlies. They bounce back in a big way this year.
Let us know your predictions in the comments.
Every Montana/Montana State Player in the NFL For 2023
Wondering where former Bobcat and Griz players are in the NFL? Here are all the players trying to make the NFL this preseason.