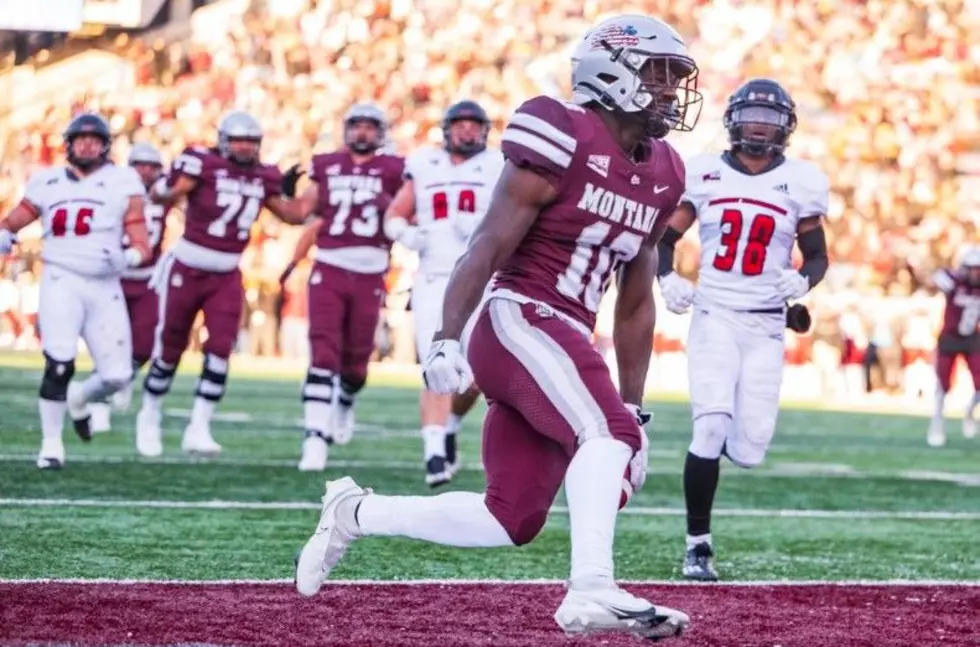 Montana Grizzly Nominated to "Jerry Rice Award" Watch List
Photo by Tommy Martino/UM Athletics
STATS Perform's FCS National Awards revealed its 2023 midseason "Jerry Rice Award" watch list Wednesday morning.
The Jerry Rice Award is given to the country's best freshman each year. Some of the former winners include a number of Big Sky Conference athletes - Cooper Kupp (Super Bowl Champ from Eastern Washington... you may have heard of him), Case Kookus (Northern Arizona), Josh Davis (Weber State) and current Idaho Vandals quarterback Gevani McCoy (the quarterback the Griz defeated Saturday in Moscow).
A Montana Grizzly has never won the Jerry Rice Award... is this the year that changes?
Montana Griz Freshman Running Back Eli Gillman
Making the midseason watch list is Griz star running back Eli Gillman. The Minnesota native made a memorable, but limited, debut last season rushing the ball only 8 times but averaging 8 yards per carry and scoring a touchdown. Gillman carried the momentum into this season rushing for over 500 yards and six touchdowns through seven games.
In the season opener against Butler, Gillman recorded his first-ever 100-yard rushing game. The young halfback followed it up the next week recording his first-ever two-touchdown performance against Utah Tech. Recently, Gillman even etched his name into the record books scoring the longest rushing touchdown in the history of University of Montana football when he scored an 85-yarder against UC Davis two weeks ago.
Gillman is one of 22 different FCS freshmen named to the Rice watch list. He is one of four Big Sky Conference athletes on the list - RB Quincy Craig (Portland State), DB Alex McLaughlin (Northern Arizona) and LT Connor Moore (Montana State).
The award is given out on January 6 at the National Awards Banquet in Frisco, Texas.
READ THE FULL JERRY RICE AWARD WATCH LIST 
Best Missoula Neighborhoods For Halloween Candy
The Top Suggested Neighborhoods For The Best Halloween Candy
Gallery Credit: Canva/Google Maps