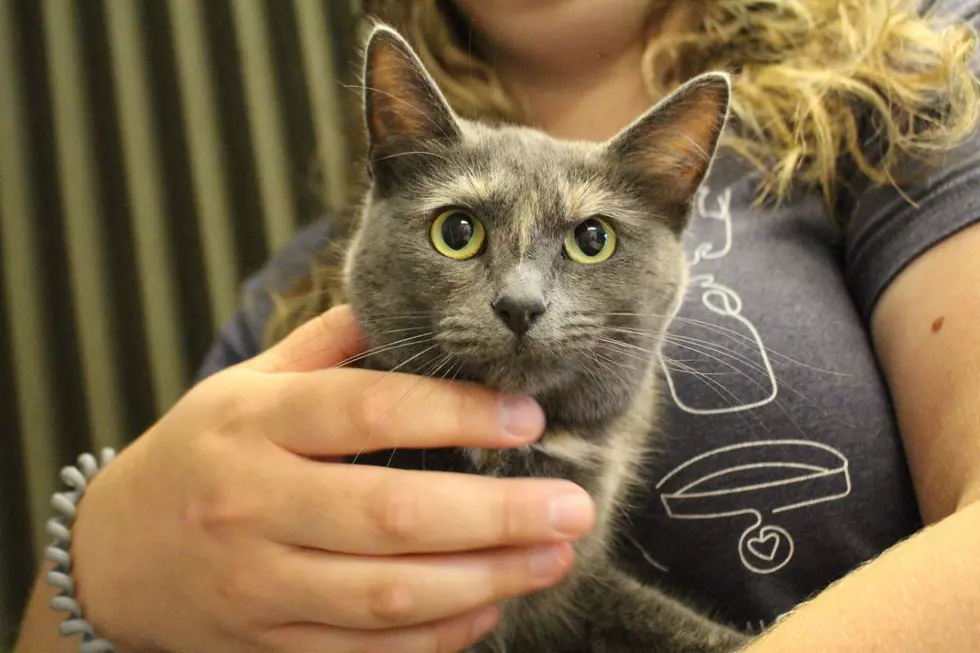 You'll See This Adorable Face Every Day When You Adopt Gingersnap
Photo: Ashley Warren
Take Me Home Tuesday returns with another featured animal from the Humane Society of Western Montana! We have to thank Flanagan Motors Mazda, Paul's Pancake Parlor, and TrailWest Bank for sponsoring this great feature that lets us help find homes for animals in need.
Gingersnap paid us a visit in the studio this morning and she was such a sweet girl despite some hardships that she's faced. Jessie, from the Humane Society, said Gingersnap is one of her favorite cats that has ever come through the shelter. Her backstory includes a sever ear infection that caused her head to tilt to one side and resulted in balance and weight issues. With some TLC and treatment from the staff at the Humane Society she's made major improvements.
What kind of home is Gingersnap looking for?
There are a few things to know if you're interested in giving Gingersnap a forever home. She adapts quickly, is really social and loves people, she's a little extra clumsy, and she's ok with cats but isn't really fond of dogs. The ideal situation will also be someone willing to help working with the Humane Society to continue Gingersnap's medical treatment for a couple of weeks as she continues to fully recover.
The Humane Society of Western Montana is open Wednesday through Sunday from 1 PM - 6 PM to view any of the animals that are up for adoption. Gingersnap and every other animal are spayed or neutered before leaving the shelter. They also receive age-appropriate vaccinations and they're microchipped.
How do I adopt?
Fill out an adoption profile, speak with an adoption specialist, and you can leave the shelter on the same day with your newest furry family member! It doesn't get any easier than that. Get more information and see animals available for adoption at the Humane Society HERE.
FEATURES TO DISCOVER WITH THE KYSS-FM MOBILE APP
You can do so much more than just listen live. Take a look at some of the convenient features of our mobile app.
The 14 Best Places in Missoula to Take Visitors From Out of Town
We asked locals where they like to bring visitors when they take a trip out to Missoula - and here's what they came up with.
Animals in Montana - Looking at You
View photos of Montana wildlife who have noticed that someone is taking their photo.