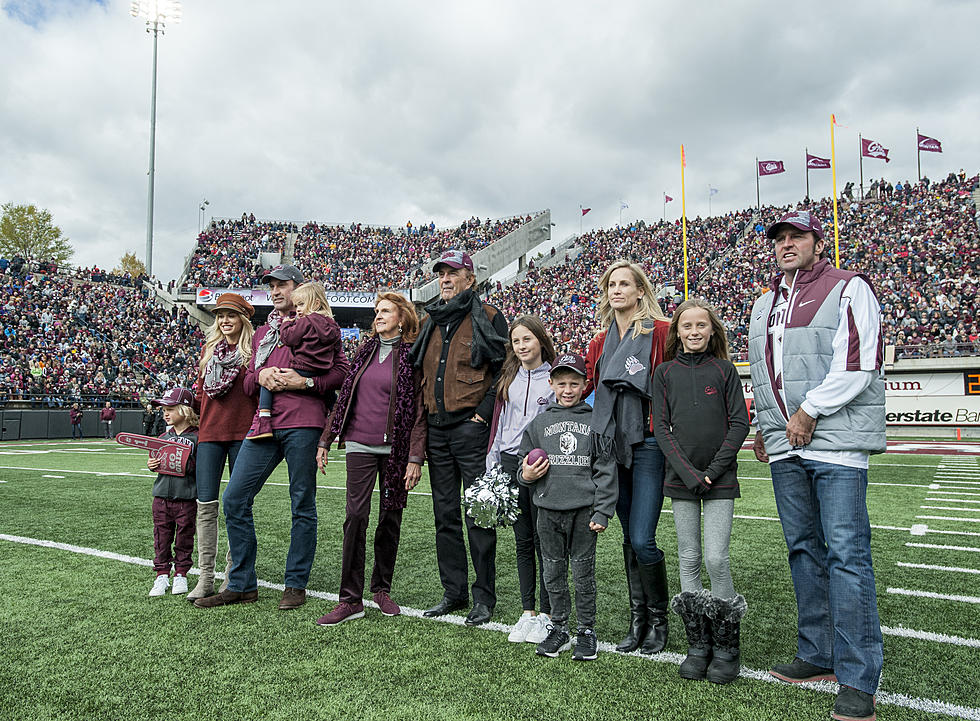 Montana's #1 Griz family to receive highest award
Washington family honored on-field in 2017; Montana Athletics photo
While there are countless families that have enjoyed, learned, and supported the University of Montana over the years, there's one Missoula family whose generosity has become one of the bedrocks of UM's development over nearly 40 years.
In fact, it's estimated they've impacted the lives of as many as one million people during that span of time.
This fall, UM is going to honor industrialist Dennis Washington and his family with one of the university's highest awards.
It was in August of 1985 that Washington and the employees of the Washington Corporations stepped forward with a $1-million lead-off gift that was the catalyst for the construction of Washington Grizzly Stadium. UM officials say Washington was among a "small group of visionaries" that examined how the new stadium would function, not just for football games but for larger community events and eventually memorable concerts from Paul McCartney to The Rolling Stones.
That was just the beginning
In 2017, UM was able to open the brand-new training and locker room facility that would be named the Washington-Grizzly Champions Center thanks to a $7-million lead gift from Kevin and Kyle Washington and the Washington Foundation.
There's also the Phyllis J. Washington College of Education, the Phyllis Washington Park and Amphitheater and the new Grizzly Indoor Practice Facility as landmarks of additional support and gifts over the years. Plus, the family has continued to support countless students through ongoing sponsorships.
An award of gratitude
Now, UM Athletic Director Kent Haslam has announced the school is awarding the Dennis, Phyllis, Kevin, and Kyle Washington Family to receive the 2023 Grizzly Lifetime Honors Award, one of the highest honors the university can award.
"There is no doubt the Washington family is synonymous with the growth and success of Grizzly athletics.- Kent Haslam, UM Athletic Director
"We are proud and honored to receive this award. Our love for Grizzly Athletics and the University of Montana runs deep and has been a part of our family tradition for more than 40 years," said Kyle Washington.
Kevin Washington agreed with his brother.
"Investing in the success of Grizzly Athletics, whether constructing facilities or funding scholarships to support the student-athletes, is something we are very proud of."
Hall of Fame event in October
The award will be given during the annual Grizzly Sports Hall of Fame presented by Wipfli banquet in the Adams Center on Oct. 27.
Other Hall of Fame nominees to be honored at the banquet include Grizzly soccer's founding coach Betsy Duerksen, All-American distance runner in track and cross-country Dean Erhard, NFL All-Pro Marc Mariani, and Lady Griz Big Sky MVP Jeanne McNulty-King.
Banquet tickets and tickets to the Oct. 28 football game are available now at GrizTix.com.
15 Montana T-Shirts to Wear and Show Your Montana Pride
Whether you're looking for humor or a great design, wearing t-shirts that celebrate Montana is a surefire way to show your love for the state.